***ESPAÑOL ABAJO***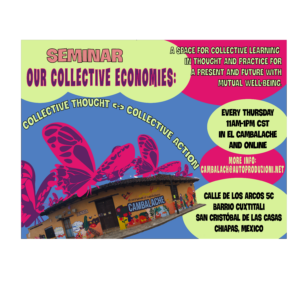 El Cambalache Collective invites you to our permanent seminar:
Our collective economies: space for collective learning in practices and thinking for a present and future of the common good.
When: First session Thursday, June 30, 2022, and every Thursday from 11am-1pm CDT
Languages: English and Spanish
Where:
Online- register to receive the link on June 29 to: https://share.mayfirst.org/apps/forms/J9zdNwJ9kBxPrqHs
In-person- at El Cambalache, Calle de los Arcos 5c, Barrio Cuxtitali, San Cristobal de las Casas, Chiapas, Mexico
Description:
We are the earth and the earth is us. Capitalism and coloniality are destroying us/earth. Many communities have been resisting the colony, coloniality and more recently, capitalism for hundreds of years. Some of these practices of resistance have also been practices of well-being. In this seminar /blog we honor indigenous knowledge, knowledge from diasporic communities, women's knowledge, dissidently gendered knowledge while seeking to create the knowledge and practices that we need to move forward. We will experiment with practices that increase collectivity and well-being because the prognosis for the future looks bleak. We need to experiment with changes now and be ready for the future through supportive, collective networks that embrace well-being. What can we create? What can we be?
Observations around participation:
This seminar/blog is anti-capitalist. Capitalism in this space is under no conditions an adequate solution for the problems that we face both locally and globally and within the general nexuses of our existence. This seminar/blog is anti-colonial. Coloniality is not an option, solution or welcome influence on the ways that we treat each other and ourselves; nor is it in any way a possible path to follow within this space of thought and practice. We will dismantle capitalism in thought and practice and thought and practice ad infinitum. We will do this through a lens of our collective economies both as individuals and as a group. We believe that each person is ana expert on their own experience. This seminar/blog will bring together many experiences, reflections and hopefully growth towards creating practices, networks and systems that will create well-being from now on. We will create knowledge through non-hierarchical relationships.
Topics for the meetings:
The first month of the seminar will be facilitated by cambalache. Afterwards, we invite participants who have attended at least three previous sessions to share their experiences and spaces of practice and thought to generate a conversation.
June 30, 2022: Inauguration: philosophy and practice from El Cambalache to the world.
July 7, 2022: Decolonial Practice- what it is and why it opens paths to the collective well-being
July 14, 2022: Feminist Decolonial Economics- what it is and why it opens paths to collective well-being
July 21, 2022: We are all experts on our own experience- what it is and why it opens paths to collective well-being
July 28, 2022: Mestizaje, segregation and our economies- race in the majority and minority world and how it limits paths to collective well-being
Calendar for August will be shared by adding participants' knowledge and facilitation.
***ESPAÑOL***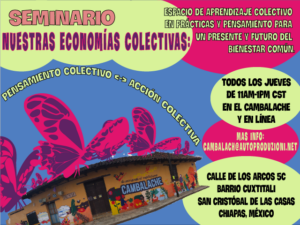 La Colectiva de El Cambalache invita a nuestro seminario permanente:
Nuestras economías colectivas: espacio de aprendizaje colectivo en practicas y pensamiento para un presente y futuro del bienestar común.
Cuando: Primer sesión Jueves, 30 de Junio, 2022
y todos lo jueves de 11am-1pm CDT
Idiomas: Ingles y Español
Donde:
En linea- registrarse para recibir el enlace el 29 de Junio https://share.mayfirst.org/apps/forms/J9zdNwJ9kBxPrqHs
Presencial- en El Cambalache, Calle de los Arcos 5c, Barrio Cuxtitali, San Cristobal de las Casas, Chiapas, Mexico
Descripción:
Somos la tierra y la tierra somos nosotres. El capitalismo y la colonialidad nos están destruyendo a nosotres/tierra. Muchas comunidades llevan cientos de años resistiendo a la colonia, a la colonialidad y sus economías impuestas. Algunas de estas prácticas de resistencia han sido también prácticas de bienestar. En este seminario/blog honramos el conocimiento indígena, el de las comunidades diaspóricas, el de las mujeres, el de géneros disidentes mientras que buscamos crear y caminar otros conocimientos y otras prácticas que necesitamos para ir hacia adelante. Experimentaremos con prácticas que aumenten la colectividad y el bienestar porque el pronóstico para el futuro parece sombrío. Tenemos que experimentar con cambios ahora y estar preparados para el futuro a través de redes colectivas de apoyo que abracen el bienestar. ¿Qué podemos crear? ¿Qué podemos ser?
Observaciones para participar:
Este seminario es anticapitalista. En este espacio, bajo ninguna condición consideramos el capitalismo como una solución adecuada para los problemas que enfrentamos tanto a nivel local como global ni dentro de los nexos generales de nuestra existencia. Este seminario/blog es anti-colonial. La colonialidad no es una opción, ni una influencia bienvenida en las formas en que nos tratamos unes a otres ni a nosotres mismes; ni, de ninguna manera, será un camino posible a seguir dentro de este espacio de pensamiento y práctica. Desarmaremos el capitalismo en el pensamiento y la práctica. Lo haremos a través de la lente de nuestras economías colectivas como individuos y como grupo. Creemos que cada persona es una experta en su propia experiencia. Este seminario/blog reunirá muchas experiencias, reflexiones y esperemos que prolifere la creación de prácticas, redes y sistemas para lograr bienestar común de ahora en adelante. Crearemos conocimiento a través de relaciones no jerárquicas.
Temas para las reuniones:
El primer mes del seminario sera facilitado por el cambalache. Después, invitamos a participantes quienes han asistido mínimo tres sesiones anteriores a compartir sus experiencias y espacios de practica y pensamiento para generar una conversación
30 Junio, 2022: Inauguración, filosofía y practica desde el cambalache para el mundo
7 de Julio, 2022: Practica decolonial- que es y por que nos abre caminos hacia el bienestar común
14 de Julio, 2022: Economia Decolonial feminista- que es y por que nos abre caminos hacia el bienestar común
21 de Julio, 2022: Todes somos expertes en nuestra experiencia- que es y por que nos abre caminos hacia el bienestar común
28 de Julio, 2022: Mestizaje, segregación y nuestras economías- raza en el mundo mayoritario y minoritario y como nos limita caminos hacia el bienestar común
Calendario para agosto sera compartido incorporando les participantes.